No More Curling Irons and Salon Trips!
Do you love bouncy curls but hate frying your hair? If yes, Our Heatless Hair Curler Headband is just the hairstyling solution for you!
This handy headband naturally creates beautiful curls and waves in your hair in a few seconds.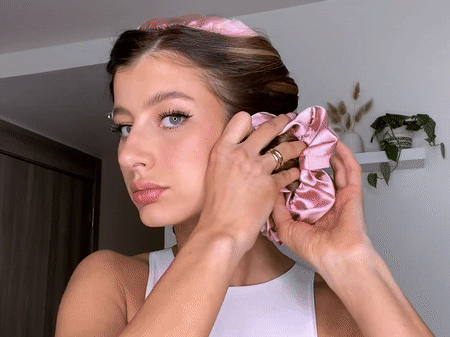 Heatless Hair Roller Headband struts the hottest curls without the heat!
The Curling Ears are made from an ultra-plush, absorbent microfibre and are easily twistable.
The microfibre is extremely comfortable to sleep on and grips the curls, preventing them from loosening. The satin headband helps to reduce frizziness on the roots.

It causes no pain or damage to your hair. With soft and lightweight material, the headband is comfortable to move & sleep in.  It is perfect for any hair type and length.
Why You Will Love It?
✓NATURAL CURLS – The heatless hair roller headband naturally creates beautiful curls and waves in your hair in a few seconds
✓HEATLESS HEADBAND – Our hair roller headband works with no heat, pain, or damage.
✓COMFORTABLE WEAR – This heatless hair roller headband is soft and lightweight, which is why it is very comfortable to move and sleep in.
✓EASY TO USE – Simply place the heatless hair roller on top of your head like a headband. Then tightly wrap wet or damp hair around it and finally, secure it with the elastic band.
✓FOR ALL HAIR TYPES – This heatless hair roller headband is suitable for use on all hair types and lengths. 
✓PREMIUM MATERIAL – Our heatless hair roller headband is made from high-quality materials that are safely reusable for reliable, longtime use.
Easy 3-Step To Perfect Curls
1. Clip - Align the satin piece of your curling ears on the crown of your head and clip into place to secure.
Tip: Lightly mist hair before starting for more defined curls.
2. Wrap - Take 2-3 inch sections of hair at a time, starting at the front top part and twist around the curling earls tightly. Bring each section under and around before picking up the next section and joining them together. Repeat from front to back until all hair has been picked up.
Tip: Smaller sections create tighter curls, larger sections create looser curls.
3. Secure - Take the smaller scrunchie and secure the ends. Wrap while twisting the curling ear upwards to create a bun on either side. Use the larger scrunchie to secure into place. Remove clips once secured to prevent creasing.
Tip: Tie your curling ears any way you like or keep your curling ears down for looser curls.
WHY SHOP FROM US?
✓ LuxBella™ Original Design
✓ Free Shipping Available
✓ Quality Control
✓ 30 Day Refund Police
WHY

 

YOU SHOULD ACT TODAY?

Due to An Unexpected high demand, Our Stock is depleting faster than expected!
To avoid restocking delays, act fast and click the "Add To Cart" Button and your gift will be reserved with us with FREE Shipping. It would be unfortunate if you had to wait 4-6 weeks for more trimmers to land on our warehouses.
STILL NOT CONVINCED? WE GOT YOU!
RISK-FREE PURCHASE
At LuxBella™, we make sure that our customers receive full value and an enjoyable shopping experience. We offer the most secure Global Payment Gateways such as Paypal & Stripe and 24/7 Customer Support ready to answer any question.
That is why we make sure that if you are not in LOVE with your purchase, just send us an email and we will give you a Stress-Free Refund within 30 days from your purchase, please refer Refund section for details.